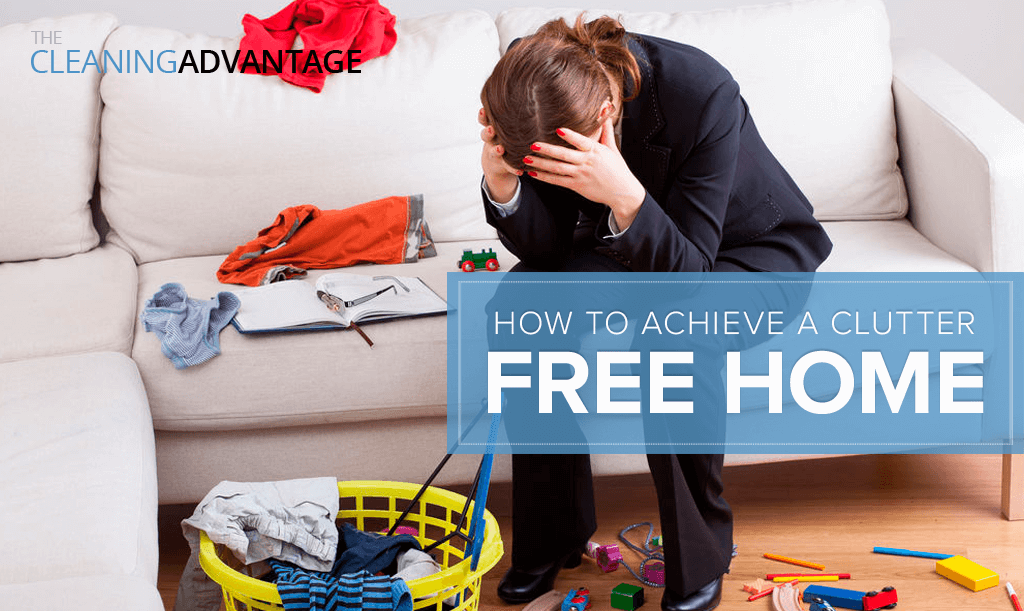 Walking into a room that is messy and cluttered can instantly bring you down. We long to have a home that is neat, clean and organized, but that's rather hard to achieve when you've got clutter everywhere!
Most homeowners don't realize that clutter is taking over their home until it's reached a stage of utter horror! You can't see most of your furniture, you can't find anything you're looking for, and you have no idea where to start cleaning. Yes, a cluttered home can cause mental stress and be a pain to tackle if left to accumulate. At The Cleaning Advantage, we want to help you live in a clutter-free home by providing useful tips to do just that! Read on!
How to Achieve a Clutter-Free Home
Put Away the Unwanted Items
The first step in achieving a clutter-free home is to get rid of the things you don't want and need. Now, we understand that with many homeowners, it's difficult to distinguish between things that are useful and things that are not. Sometimes we hold on to useless items for sentimental reasons and end up cluttering our living space because of them. We suggest you start one room at a time and carefully filter through your possessions. Be practical and logical when sifting through the contents of a room and do away with the things that have no value to you or your home anymore.
Maintain Order to Avoid Clutter
Even if you don't have things in excess, your home can easily be cluttered by your existing possessions. By leaving things out of place, you end up cleaning up your home without even realizing it! Observe the difference between an organized room and one with things lying around; doesn't the last look rather cluttered up? Well, it's just a matter of maintaining order in each room to avoid confusion.
Don't Buy More than You Need
We often buy things on impulse, and they end up having no use for us in the long run. From clothes and shoes to accessories and household items, you purchase at least one thing you don't need every month. Well, the next time you're about to buy something, give it some extra thought; chances are you'll realize you don't need it and put it back on the rack! The key here is to have enough and live by that ol' famous phrase – "less is more."
Do 'Clutter Inspections'
Once you've gotten rid of the clutter and your home is now neat and organized, you must make sure it stays that way! This step is also the best way to do in carrying out routine 'clutter inspections.' This means checking each room periodically ensures that no clutter has accumulated. It also keeps things in place. It's a simple home cleaning solution to keep clutter at bay. And it'll only take a couple of minutes to carry out!