Trusted Recurring Maid Services In Lancaster, Leominster, Worcester & Nearby Cities
The Cleaning Advantage provides top-quality maid services in Lancaster, Leominster, Worcester, and surrounding communities. We offer services on a weekly, biweekly, or monthly basis.
When we clean your home, you'll know it was cleaned by professionals who care!
We'll Keep Your Home Looking Fresh And Clean!
We Make Houses Sparkle and Shine!
We'll keep your home beautifully clean with our Recurring Residential Cleaning Services
Nothing feels better than coming home to a nice clean house or apartment. It looks great, smells good and you don't have any cleaning that needs to be done. All of our clients tell us once they've experienced a recurring maid service that they are not sure how they ever got along without us! We offer recurring services on a weekly, biweekly, or monthly basis.
Weekly House Cleaning Services
Weekly Cleaning is not quite as popular as bi-weekly. All items that are cleaned on a general cleaning are done on a weekly basis or every 7 days. Weekly house cleaning works well for the homes that get high use: multiple pets, multiple children, frequent parties or entertaining, and very hectic work schedules. There are some homeowners that desire their home to be in tip-top shape all the time and will elect to have weekly cleaning.
Biweekly House Cleaning Services
When you call to set up a recurring service, our team will work with you to choose the right schedule for your specific home. Depending on the number of people and pets in your home and your budget, we'll help you decide which service is best for your individual needs. Most of our customers choose recurring cleaning on a bi-weekly basis to keep their homes looking incredible throughout the month and to cut down on the amount of house cleaning chores they have to do themselves.
Monthly House Cleaning Services
Monthly Cleaning Services are performed every 28 days or every 4 weeks. All things that are cleaned on general cleaning are done on monthly cleanings. Monthly cleanings are great for homes that have light use, people who are single, as well as those that work a lot and are never home. Monthly house cleaning is also a perfect choice for seniors.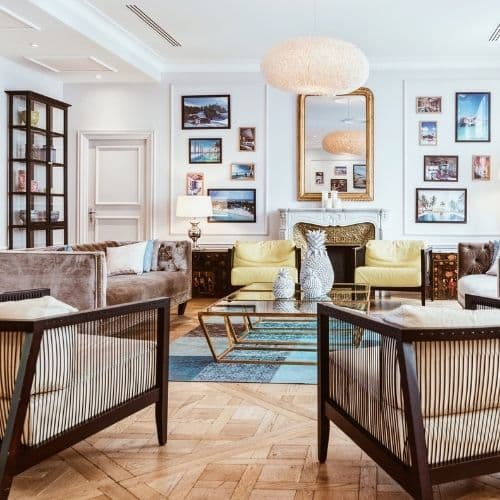 We highly recommend our new customers start with a Deep House Cleaning prior to setting up recurring cleaning services. This allows us to get your home in pristine condition right away and keep it that way in the following weeks and months.
Health & Safety Precautions
The Cleaning Advantage takes extra steps to make sure you and your loved ones are safe and healthy in your home.
We use a hospital-grade disinfectant to clean the areas in your home most susceptible to the spread of germs and bacteria, including surfaces in the kitchen and bathroom, door knobs, light switches, and more. All of our equipment is disinfected and sanitized between each visit.
Our cleaning technicians wear masks and practice proper social distancing while visiting your home.
What's Included In Our Recurring Maid Services
Remove cobwebs
Dust ceiling fans & light fixtures
Dust wall art and A/C vents
Dust knick-knacks and lamps
Dust furniture
Dust blinds
Dust window sills
Dust doors and door frames
Dust baseboards
Empty trash and reline trash can
Vacuum floors
Mop hard-surface floors
Make beds
Clean countertops
Dust countertop items
clean exterior of appliances - polish stainless
Spot clean cabinet fronts
Sanitize sink and polish fixtures
Scrub tub/shower and polish fixtures
Clean countertops and dust countertop items
Spot clean cabinet fronts
Sanitize sinks and polish fixtures
Clean mirrors
Sanitize toilet and toilet area
Hand wash baseboards
Clean inside the oven
Clean inside the refrigerator
Frequently Asked Questions About Our Recurirng Maid Services
A recurring maid service is an ongoing cleaning service that is scheduled at regular intervals, such as weekly, bi-weekly, or monthly. It ensures your home stays consistently clean and organized over time.
The frequency of your maid service depends on your needs and preferences. Weekly services are ideal for busy households or homes with high foot traffic. Bi-weekly services are suitable for maintaining a generally clean environment, while monthly services are great for light maintenance. You can choose the frequency that best suits your lifestyle and budget.
The cost of recurring maid services can vary depending on factors like the size and condition of your home as well as the frequency we will be providing cleaning services.
We provide the cleaning products and equipment needed to clean your home. We use high-quality cleaning supplies and modern tools to ensure a thorough and efficient cleaning. However, if you have specific preferences or allergies, you can discuss this with the service provider to ensure they use products that meet your criteria.
Come Home To Clean Tomorrow!